Spain's Catalunya Banc returns to profit ahead of privatisation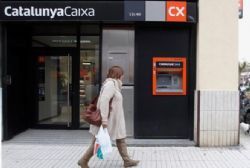 Spain's nationalised Catalunya Banc, which the state is likely to try and auction off this year, said on Wednesday it had swung back into profit in 2013 and was selling its property management unit, some offices and soured loans as it restructures.
The Barcelona-based bank is in talks with local investment firm Magic Real Estate over its second attempt to sell the property management division, sources told Reuters earlier in March.
They added the bank was also trying to sell a €1.5 bln portfolio of soured loans and a network of 200 offices outside its core Catalonia region, as it tries to get into better shape ahead of an eventual privatisation.
Like many Spanish rivals, Catalunya Banc was hit by soured property deals. It needed part of a €41.3 bln European aid package and has taken €12 bln in rescue funds overall.
The return to profit and the assets sales are important steps towards returning the bank to private ownership later this year.
It reported a €532 mln profit for 2013 - following losses of €11.8 bln in 2012 - after it was cleansed of most of its rotten real estate loans and housing, which was transferred to a government-backed "bad bank".
Catalunya Banc's 2013 net interest income - earnings on loans minus deposit costs - fell 2.2% compared to a year earlier to €500.4 mln.
It said its core capital ratio under tougher Basel III fully-loaded criteria, which takes into account changes that needed to be made by 2019, was 12.3% at the end of last year, above minimum requirements.
Spain's government has not set a timetable for the sale of Catalunya Banc, but bankers expect it to try and launch an auction this year after a failed one in early 2013.
"The bank has markedly improved its position compared to the previous year, which will enable it to face an eventual privatisation process with full guarantees," the bank said in its earnings statement.
Spain has begun to sell down its majority stake in bailed-out Bankia, and turned a small profit from that share offering.
But the country will struggle to recover all of the aid poured into banks. It sold a majority stake in nationalised NCG Banco to Venezuela's Banesco last year for €1 bln, after handing that bank €9 bln in aid.
Last October Executives of the Bank and Union representatives agreed upon 2,153 redundancies, including 401 workers over the age of 50,
Further Reading :
* Spain's Cataluna Banc Selling Property Unit
* Catalunya Banc and Unions Agree on Dismissal of 2,153 Employees