Spain's AENA, on-off privatisation candidate, posts 2013 profit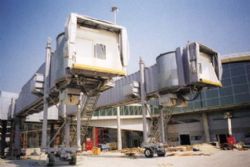 Spanish airports operator AENA made a profit of €715 mln in 2013, while its airports division - a potential privatisation candidate - made a first-time profit of €597 mln, the Public Works Ministry said on Thursday.
AENA's recovery, partly helped by the start of a tentative economic pick-up after a long recession, was backed by a reduction in group costs to €1.86 bln in 2013 from €2.02 bln in 2012 and higher airport and navigation tariffs.
The company is the world's biggest airports authority, with stakes in more than 20 airports beyond Spain and 46 at home, and given Spain's strong cultural links to Latin America is considered by analysts to be a very attractive asset.
The planned privatisation of AENA's airports division - which with a value of €15 bln would be Spain's biggest - was slated to take place in the first half of 2014. But since the end of last year, government officials have declined to clarify if or when it will go ahead owing to another bout of political opposition which has hampered the project for years.
In recent months local media have reported that the issue of what to do with small loss-making airports in outlying regions has raised hackles, as well as the decision on whether the government is willing to sell a majority stake.
AENA Aeropuertos increased pre-tax operating profit to €1.6 bln in 2013 from €1.22 bln in 2012. The unit had debt of €11.39 bln at the end of the year, or 7 times operating profit versus 14 times the year earlier.
The group's airports unit's profit contrasted with a 2012 loss of €64 mln.
In 2012, when the Public Works Ministry provided a breakdown by airport, only 9 of its 46 airports were profitable - Seville, Barcelona, Bilbao and then tourist destinations Palma de Mallorca, Ibiza, Fuerteventura, Lanzarote, Tenerife Sur and Gran Canaria.