Most violent "student" protestors in Madrid not students at all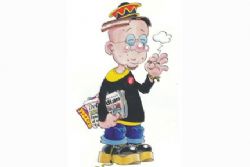 The more than 50 people who were arrested Thursday in connection with student protests against education cuts have all been released, the police confirmed. Of them, only 8 were enrolled at Madrid's Complutense University, where most arrests took place, while the rest were members of extreme left groups who had infiltrated the event.
The Student Union, which had called the 48-hour strike to protest against the government's budget cuts, said it had nothing to do with the violence, which included setting trash containers on fire near the Complutense's Law School and History School.
Around 600 people demonstrated on campus on Thursday; while the protest was mostly peaceful, some individuals set off flares and a smoke canister. Riot police prevented demonstrators from reaching the Rectorate, where the university president's office is located.
Meanwhile, another protest that ended in central Puerta del Sol square resulted in a face-off between demonstrators - mostly students and employees from a struggling Coca-Cola bottling plant - and around 20 young anarchists who showed up to boycott the event but were ultimately evicted by the protestors.
Recommended Reading :
* Spain to revise parts of controversial citizens safety law
* Trouble flares as Spain's dignity marches bring thousands to Madrid