Catalonia braces itself for Saloufest 2014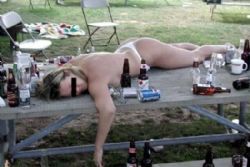 It's back !
Now in it's 12th year, and having played host to more than 50,000 vomiting students, Saloufest is gearing up for yet another fortnight of drunken debauchery.
Saloufest 2014 expects to see as many as 10,000 students from the UK visit the Catalonian town for a "Sporting Tournament" for their Easter Break.
The event has become a traditional 2 weeks of non-stop partying with just a token nod to the odd game of football, as students wind down for the end of term.
However, 2014 is expected to break all records and see as many as 10,000 students attend the event, with the format seeing the event broken into 3 legs, after being split last year : session 1 : 5th-11th April; session 2 : 12th - 18th April; session 3 : 21st - 27th April.
The local population generally views the event with opinion being divided : On one hand, there are those who are concerned that the cost and damage to the town - not least it's reputation - are too much to bear and that they should not be forced to pay to host such an event from the coffers of the Town Hall.
On the other hand the view is - especially from business owners - that the event brings 100% capacity to the town for a solid 3 week period before the season begins. Many Bar owners note that takings during Saloufest are higher than the whole of August, which is usually popular with families who would traditionally spend less than partying students.
Although Saloufest might not be the kind of event or attraction that the Town hoped it would be host to, residents should be reminded that there are countless resorts up and down the Spanish Costas that would jump at the opportunity of increasing revenues and providing much needed employment for the locals.