Alicante Airport New Terminal Anniversary Passes Quietly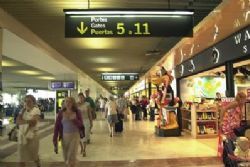 Late last week Alicante airport quietly celebrated the third anniversary of the opening of their new terminal building.
The airport - which was the 6th busiest in Spain in 2011 - retained the same position in 2013. Passenger numbers for the first year of operation for the new terminal stood at 9,913,764 - the best ever year for Alicante airport - dipping slightly to 8,855.764 the following year, but bouncing back to 9,638,860 in 2013.
Despite being designed and constructed to accommodate an estimated 20 Mln passengers per year, the new terminal has yet to see the top side of 10 Mln passengers per year - therefore 50% under capacity.
Yet, depsite a puzzling and unnecessary change of name from Alicante El Altet airport to Alicante-Elche airport, and an even more puzzling stand-off with Ryanair over the mandatory use of Airbridges, the facility is clearly one of the 'winners' as far as Spanish airport are concerned.
Long considered one of the most profitable airports in Spain - where more than 75% of the country's state-owned airports are unable to cover their own costs - the airport is still able to benefit from neighboring Murica's inability to bring Corvera airport into operation.
Happy birthday Alicante Airport, sometimes the grass isn't always greener.
Recommended Reading :
* Change of name for Spain's Alicante Airport
* Corvera Airport unlikely to open summer 2014