Murcia "has lied" over Corvera Airport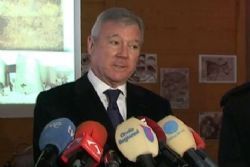 The regional spokesman for the IU-Verdes (Green Party), Josť Antonio Pujante, has accused the regional government of Murcia of deliberately misleading a number of European Institutions over the closure of San Javier Airport and the subsequent opening of Corvera Airport.
Pujante believes that the resident of Murcia were also lied to with regards to how public funds were spent at Corvera Airport, and went on to say how the various Institutions should take action due to an infringement of EU law on public procurement, and for breach of competition, with regards to the appointment of various contractors.
Pujante accused the government of manipulating information to favour certain parties bidding for specific contracts at the airport.
The Green Party has requested - through it's MEP representative in the European Parliament - that the matter of the region's equity loan to the concession holder of the airport also be investigated.
FOUR further things of interest this last week :
#1 With barely 3 weeks to go before the Holiday period, perhaps we should be reminded of President Valcarcel's promise last July that "Corvera Airport will be operational by Easter 2014" ?
#2 A dignified / smug silence is retained on the 3rd Anniversary of Alicante Airport's new terminal building
#3 Surely things at Corvera can not get as bad as this : Castellon Airport's 3rd Birthday
#4 Bye then ! : Murcia's President Valcarcel to step down in April