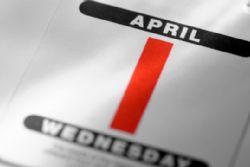 There shall be none of the traditional "April Foolery" related news article today.
No 'hilarious' spoof of how Corvera / Castellon / Ciudad Real Airport openings are imminent. No jocular offering of how the Paramount pictures theme park project is scheduled to be completed by September. No information proclaiming the resignation of Mariano Rajoy. And no missive on how Michael O'Leary and his cronies at Ryanair are considering taking advantage of Spain's current stance on the issue of abortion.
Simply put, Tumbit has neither the time nor inclination this year. And let's face it, there is far too much subject matter to chose from out there at the moment. Sorry. Normal service may be resumed next year.