First Urban-Water Law in Spain Augurs Private Investment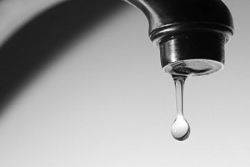 Spain plans to tighten rules for local authorities to sell water to homes and businesses in a move that may benefit investor-owned companies such as Acciona and France's Suez Environnement.
Towns or districts that want to sell directly to consumers will need to prove they are more "sustainable and efficient" than the best alternative, according to a draft law prepared by the government. The criteria are based on profitability and return on investment and the analysis must be made public, according to a draft seen by Bloomberg.
Spain's first nationwide rules for urban water concessions would open its water system further to new providers and contribute to growth prospects for the estimated $560 billion global water market. Revenue will expand 3.9% annually worldwide over the next 4 years, according to the Spanish engineering company Abengoa, which cited Global Water Intelligence estimates.
Suez, Europe's 2nd-largest water utility and controlling shareholder of Barcelona's water-management company, as well as Spain's Acciona and Fomento de Construcciones are potential bidders for concessions should Spain open the market further.
"It's a pro-business draft law," said Abel La Calle Marcos, a law professor at Almeria University and attorney specialized in water regulation. "It seems to be a draft that supports water providers mostly, and I'm not sure whether the public interest is equally protected."
Compliance Failure
Agriculture Minister Miguel Arias Canete said in February that the government was working on regulations for an integral urban-water cycle because the country needs to manage the commodity better. Spain is failing to comply with rules on wastewater included in a European Union directive on water, and potential fines on the nation could total as much as €200 Mln, Expansion newspaper reported, citing Arias Canete.
Attempts by telephone and e-mail to reach ministry officials for comment on the draft law were unsuccessful. A spokesman for the agency, who asked not to be named in line with its policies, said he had no comment.
The draft still has to be approved by the government before starting its review in Parliament.
Spain's privately owned companies currently have a share in the urban water market of about 36% compared with 47% of public sector companies and local authorities directly providing the service, according to estimates from the Spanish Association of Water Providers and Treatment.
Water's Price
The markets and antitrust regulator in Spain, known by its initials CNMC, would oversee urban water providers, according to the draft. The industry would finance the regulator via a planned fee. So far, local towns and regions set most rules for the public service.
The blueprint also sets a formula to calculate a water bill's annual prices, which will factor in costs of providing the service and investments, according to the draft law.
The water service should be integrated from purchase and treatment to consumption and wastewater-handling before it returns to rivers, the draft said.
Spain is Europe's most water-stressed country, according to the World Resources Institute's analysis of supply and demand. Still, water prices are about 46% lower than average for the European Union, according to PwC.
"The Ministry is studying which are the financing needs of the water sector," Arias Canete said today in a conference in Alicante. "It would be also necessary to promote change in the economic-financial regime for water, that allows it to comply with the criteria of costs recovery."
Desalination Plants
Spain's previous government planned to build 15 water desalination plants, of which only one is in operation, Arias Canete said in February at an event organized by Acciona, PwC and Expansion. The country took about €2 bln of EU aid that might have to be returned should the plants not enter operation, he said that time.
The draft proposes rules to attract investors to complete the construction of desalination plants in Spain. Winners of the bidding processes could be eligible for state aid.
Desalination plants should have commitments from towns to consume the water before the investment for completion is agreed, the government's draft proposes.
Recommended Reading :
* Spain defies EU ruling on Segura-Tagus water