Bride goes beserk on Ryanair flight to Spain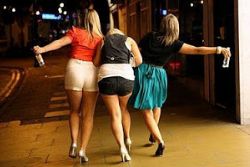 Though every bride will surely have their day, this one wanted two.
An unruly bride-to-be donning a white veil was filmed throwing punches on a Ryanair flight to Spain for her Hen Party, according to reports and video capturing the shocking in-flight ordeal.
The brawling bride, flying from Manchester to Barcelona, is seen repeatedly smashing her fist down on a fellow female passenger who's also smacked around by the bride's apparent sidekick.
A male passenger seated behind them said he whipped out his camera upon seeing the bride's shocking engagement, which apparently was first started between the other two women.
"I could see shouting and it looked like two girls were fighting. Then I saw the bride run along and jump in," Tony Tickle, the passenger behind the recording, told the Manchester Evening News.
"She threw three or four punches. I grabbed my phone to get it on camera," he said. "It all happened so fast. It lasted about a minute in all."
Tickle said the 6:30 p.m. flight from Manchester had been delayed for an hour and the women's drinking during that time may have contributed to their violent behavior.
A fellow passenger who recorded the fight involving three women in all said the bride threw up to four punches after running up the aisle to jump into the fight.
When a flight attendant finally interjects between the three women, the bride walks away while straightening her veil.
One of the party can be clearly heard telling the blushing bride "They got CCTV Kelly".
Her apparent accomplice then goes back to her own seat on the opposite side of the plane. A Ryanair spokeswoman reached for comment by Metro said the situation was handled swiftly and appropriately by their staff.
A flight attendant promptly broke up the fight, sending the bride back to her seat after straightening her veil.
"We have already seen this video, which shows that the matter was dealt with quickly and professionally by our cabin crew," they stated. "We have nothing further to add."
Classy Kelly. Your future husband must be so proud.
Recommended Reading :
* May : Possibly the worst month to catch a flight to Spain