Spain's parliament set to reject Catalan referendum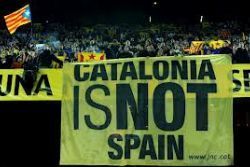 Spain's parliament looks certain to reject a petition from Catalonia to hold a referendum on independence, despite heavy support for the separatist movement in the wealthy northeastern region.
The regional parliament of Catalonia, which has its own language and a long history of fighting for greater autonomy from Spain, sent an initiative to the national legislature in January asking for permission to hold a referendum.
Lawmakers debate the initiative starting at 4 p.m. on Tuesday, followed by a vote in the evening.
The ruling conservative People's Party (PP) and the main opposition group, the Socialists, as well as the centrist Union for Progress and Democracy (UPyD), who together have 300 of the 350 seats in Parliament, will all vote against the petition.
"They will say no, but they can't block the will of the Catalan people," Catalan President Artur Mas said on Sunday, anticipating the "no" vote.
The spectre of a breakaway Catalonia, which accounts for a fifth of the Spanish economy and 16 percent of its population, has become a big headache for PM Mariano Rajoy, who is battling high unemployment and the scars of a deep recession.
Mas has said that his next step will be to defy the parliament and go ahead with the referendum anyway. He has already set a date of November 9th, 2 months after an independence vote in Scotland that is being closely watched in Catalonia.
Rajoy has said he will use the courts to block the Catalan government from holding a vote, even though Mas argues that if it is a non-binding consultation it should be legal.
Mas has also signalled he will not break the law. So if the referendum is shut down by the courts, he is expected to use the next election in Catalonia, which must be held by 2016, as a proxy vote on independence.
BUSINESS LEADERS CAUTIOUS
Opinion polls show that roughly half of Catalans support independence but a much higher number want the right to vote on the matter.
Catalonia - the land of artists Joan Miro and Salvador Dali and architect Antoni Gaudi - is home to some of Spain's biggest companies, including banks Caixabank and Sabadell, global infrastructure company Abertis and utility Gas Natural.
Catalan business leaders have been cautious about taking sides on independence, fearing a backlash. But the head of Spain's largest pharmaceutical company, Barcelona-based Grifols, broke the silence last week when he backed Mas's drive to hold a referendum.
The view from the central government is that self-determination does not apply in Catalonia's case, because it is not a colony and is not suffering rights violations.
Spain's highly devolved system already gives Catalonia significant self-governing powers over its education and health systems and its police.
With the European Union backing the Spanish government, political analysts believe the endgame will likely be some sort of negotiation between Catalonia and Spain for the region to get additional fiscal powers.
A perception that Spain's tax system is unfair to Catalonia and tussles over the Catalan-language education system have fueled the independence movement, as has the national economic crisis.
Rajoy is hoping time will be on his side. With the recovery gaining momentum in Spain, independence fervor could lose some of its heat.
Russia's annexation of Crimea from Ukraine after a snap referendum staged under military occupation has done the Catalans no favours, highlighting the risk of the self-determination principle in Europe.
The Catalan government has circulated a petition paper to European governments to distance its referendum campaign from the Crimean situation.
In Catalonia on Monday the Catalan National Assembly, which has organized huge pro-referendum demonstrations over the last 3 years, held a signature drive to show that public support for a plebiscite remains strong.
The group's booths in Barcelona were adorned with the independence flag, a white star on a blue triangle against the official flag of yellow and red stripes.
"You can't deny what people want, or their voice or what we are demanding in Catalonia, which is our land. If they don't listen we will go to Europe with our claim," said Rafael Martinez, a computer technician, after signing the petition.
Read the timeline of Catalonia's bid for independence by clicking the link > HERE <