Murcia seeks to grow GDP from Tourism by 12%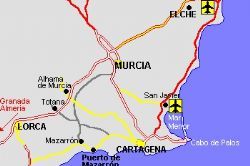 The Government of Murcia is looking to grow it's Gross Domestic Productivity (GDP) derived from tourism to 12%, according to the regional Director for the Institute of Tourism, Enrique Ujaldón.
Achieving this figure would bring Murcia into line with more prosperous communities along the Mediterranean.
Ujaldón also spoke of how the suspension of the Eurovegas project would also directly benefit the region, making the Paramount theme park project at Alhama de Murcia a more attractive prospect to investors and would-be tour operators alike.
Interestingly, the Director did not pass comment on whether he thought that the region's aspiration were achievable or not.
Recommended Reading :
* Spain expects 10-year high tourism spend in 2014
* "Hope and Enthusiasm" for Paramount Murcia