University Researches Gender Roles of Cartoons in Spain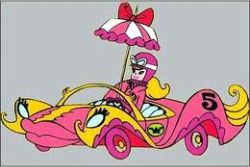 Spain : One of the highest rates of unemployment in the western world, one of the worst education systems (according to the OECD*).
Yet it seems that those plucky researchers at the University of Granada have put their intellect to good use, and instead of directing their intellect towards fiscal stability, or the introduction of a new pest-resistant crop, they have decided to evaluate the roles of women portrayed in Spanish comics.
According to a report in WEST, Women in Spain [in animated comics at least] are portrayed as being 'consumerist, jealous, more superficial than men and obsessed with their physical aspect'.
Apparently, the tax-payer has funded the University of Granada so that they have been able to 'reseach 621 distinct characters and 163 Children TV programs' [reading comics and watching cartoons all day.... isn't that what all students do anyway ...?]
Apparently, and after much funding and eating of Pot Noodle, the extensive research confirmed that the most popular cartoons reinforce gender stereotypes. So much so that when they are represented (33.6%), the heroines act in standard shoes: representing girlfriends, mothers or the assistant of the hero or the villain. Always slender, provocative and heavily made-up, they care about nothing but the appearance and the best strategy for winning the coveted boy. While mothers appear in socio-economically inferior roles compared to the fathers, successful workers. Is it just a case- the researchers wonder- the fact that the makers of such cartoons are women only in 9.2% of cases?
Recommended Reading :
* Spanish students lag behind in problem solving : report