Ex-treasurer of Spain's ruling party says inherited slush fund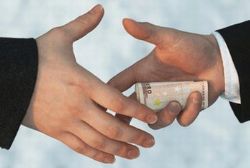 A former treasurer for Spain's ruling Partido Popular who is accused of amassing personal wealth from a secret slush fund told a judge on Thursday that he inherited the fund from the party's former secretary general, a court source said.
Luis Barcenas testified in a closed hearing before the High Court on Thursday over allegations that €48 mln held in Swiss bank accounts stemmed from backhanders from business executives to the People's Party (PP).
The court source told Reuters that Barcenas said to Examining Magistrate Pablo Ruz that an €8 mln slush fund had been passed on to him by Francisco Alvarez Cascos, secretary general of the PP until 1999. He did not say where he deposited the money.
A PP spokeswoman declined to comment.
Barcenas, who has been in preventive custody since June 27, has admitted to channelling millions of euros of cash donations from construction magnates into the pockets of party leaders.
But he has denied amassing a personal wealth from the fund he oversaw, saying that the money in the Swiss accounts came from art dealing and shrewd investments.
Cascos held several important government roles following his term as party secretary, including deputy prime minister and minister of public works during Jose Maria Aznar's two terms as PM from 1996 until 2004.
Cascos left the PP in 2011 and formed a new party with which he won the regional presidency of northern Asturias the same year but resigned in 2012 after having struggled to get bills passed by the local parliament.
The Barcenas case has been an embarrassment to Spain's PM Mariano Rajoy, whose ratings have dropped since the corruption scandal broke last year.
The scandal had initially threatened to destabilize Rajoy's government but he and other party leaders have denied any wrongdoing and so far have not become direct targets of Ruz's investigation.
Barcenas' wife, Rosalia Iglesias, was also due to testify before Ruz on Thursday over the couple's personal wealth.