Spain Village May Change 'Jew Killer' Name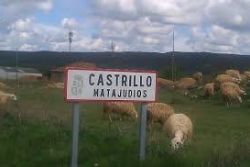 A Spanish village is considering removing the phrase "kill Jews" from its name.
The village of Castrillo Matajudios near Leon in northern Spain will convene its 60 resident families at a town hall meeting next week to discuss and vote on the first formal proposal to change the village's name, the regional daily Diario de Burgos reported Friday.
(However, 'Matajudios' also refers to the name of a traditional easter drink.
Mayor Lorenzo Rodriguez, who submitted the proposal, suggested changing the village's name to Castrillo Mota de Judios, which means "Castrillo Jews' Hill." He said this was the village's original name, but it was changed during the Spanish Inquisition.
In parts of Spain, and especially in the north, locals use the term "killing Jews" (matar Judios) to describe the traditional drinking of lemonade spiked with alcohol at festivals held in city squares at Easter, or drinking in general.
Leon will hold its "matar Judios" fiesta on Good Friday, April 18, where organizers estimate 40,000 gallons of lemonade will be sold.
The name originates from medieval times, when converted Jews would sometimes be publicly executed in show trials at around Easter, Maria Royo, a spokesperson for the Federation of Jewish Communities of Spain told JTA.
"Regrettably, this type of expression exists in Spain in ceremonies and parties," she said, but added that "the people saying it are mostly unaware of the history. It is a complicated issue that is ingrained in local culture."
The federation is in contact on this issue with authorities but given the popularity of the expression, "it is impossible to forbid this language" in that context, she added.
Last month, Ramon Benavides, the president of a local associations of hoteliers, told the news agency EFE: "When 'killing Jews,' it's best to take it slow and keep track of how much you drink to avoid excesses and its consequences the next day."