LIDL Spain sees 2013 turnover up 4%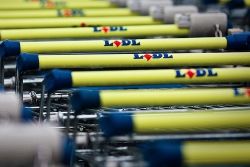 Lidl Spain's turnover reached €2.5 billion in 2013, up 4% year-on-year, on the back of its push for fresh products, the expansion of product range and higher presence of local products, reported Spanish media.
The retailer, which celebrated yesterday its ten year anniversary in Spain, has now over 520 stores visited by more than 3 million clients each week, said Lidl Spain's CFO, Ferran Figeruas.
Figeruas said Lidl has the potential to reach 800 stores throughout all regions of Spain in the next coming years. Only for 2014, the company plans an investment of €180m that will go largely to the expansion and improvement of stores.
The retailer plans to recruit 400 new employers this year, which will up the staff number to 10,000 workers. "Lidl is mid-way between the discounter and the traditional grocery shop," said Javier Suarez, general director of expansion at Lidl Spain.
In recent years, Lidl has been focusing on quality, fresh and local products. "In 2013 fresh products presence increased by 40%," purchases general director Miguel Paradela said.
Further Reading :
* LIDL to invest a further 180 Mln in Spain