Independent Catalaonia would not become EU member : Brussels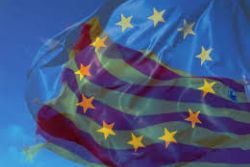 The EU has poured cold water over Catalan nationalists' latest claims that an independent Catalonia would retain European membership.
Just one day after a committee of advisors told Catalan premier Artur Mas that Brussels would allow a sovereign Catalonia back into the union - if it was ever expelled at all - the European Commission reiterated on Tuesday that a declaration of independence would automatically leave the region out of the EU.
"A new state would become, by dint of its independence, a third country with respect to the EU and the Treaties of the Union would not apply from day one of its independence," said an EU spokesman. "The Commission has been saying for months, and even years, that it will not be neutral with respect to the Treaties in the event of scenarios such as the separation of part of a member state or the creation of a new state."
Ever since Catalan nationalists began their independence drive, the European executive has not changed its stance: Catalonia would have to start from scratch and request new membership in the union, with no particular shortcuts created to ensure a faster procedure.
A report issued on Monday by the National Transition Advisory Council, which is guiding regional premier Artur Mas through his pro-sovereignty bid, claims that "European and international law do not have a ready-made solution, and the decision [to let Catalonia join] will be based on political and economic criteria."
Recommended Reading :
* Catalan Government : "EU would accept us as a full member"