Guardia Civil 'Brit Torturers' face 26 years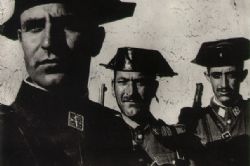 Four members of the Civil Guard face a combined 26 years in prison for "torturing" two British nationals, if the Balearics prosecutor's claims are upheld by a court in Palma de Mallorca.
"Trust in the right to a defense is abolished if one cannot trust in the actions of the police," said the prosecutor, Julio Cano, who believes that a sergeant and three officers under his command assaulted and intimidated two men at various moments during the course of a night they spent under arrest at the Palmanova Civil Guard station, in November 2009.
The arrests followed a fight that was started by one of the two Britons inside a bar. The sergeant, who was off duty that night, was assaulted and left unconscious. Three men under his command took the Britons to the station, where they and the sergeant allegedly beat them with a nightstick. The sergeant is also accused of psychological torture, allegedly staring at one of the captive men inside the cell until he left him in a state of panic.
The defence is denying the claims, noting that both the men were absent from court and that one of them is a drug trafficker who knew he was under investigation. The Civil Guards filed their own complaint against the Britons, who were found guilty of assault and disobedience.
A forensic expert who examined both men following their release from the Civil Guard station found multiple bruises, seven nightstick marks, broken arms and scratches on their faces. The Civil Guards claimed that the detainees had hurt themselves inside their cell and during their arrest. One of the men momentarily escaped from the patrol car while in handcuffs, and fell and hit his face. During the night of their arrest, they were taken to hospital twice.
Further Reading :
* How to complain about the Police in Spain