Spain's roads in worst condition since 1985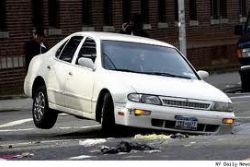 The president of the Spanish Road Association (AEC) on Friday spoke in nearly apocalyptic terms about the terrible state of Spain's national and regional road network.
"Spanish roads are facing unprecedented deterioration, and only a sudden change of tack in the 2015 budget can prevent a debacle," said Juan Francisco Lazcano at the presentation of a report drafted by his association.
The conclusions of the Study on investment needs in [road] maintenance are dire. According to the report, the situation of Spain's roads are "the worst" since 1985, when the association conducted its first study.
"The state of maintenance is deficient, borderline very deficient," notes the report.
By extrapolating the conditions found on the 3,000 road sections that were analyzed, the advocacy group concluded that it is necessary to replace 330,000 road signs, repaint road surface markings along 52,000 kilometers of thoroughfares and review 82% of roadway lights.
Metal barriers get a failing grade, while the state of road beacons dropped from "good" to "acceptable."
But the deterioration is much more noticeable on the pavement, where 1 out of every 4km has cracks and 1 of every 3km has potholes and other surface deformations.
"Turning this situation around requires an investment of €6.2 billion, of which 94% must go toward pavement repair," warned Lazcano.
In 2011, the AEC president noted, road investment was €5.5 billion, but the 2014 national budget indicates that only €878 million has been earmarked for the management and maintenance of state-run roads, fully 30% less than in 2009.
The association warns about the serious consequences of pavement deterioration for road safety, and insists that the cost of repairs grows exponentially with every passing year.
"Every euro that is not invested in time on pavement maintenance becomes €5 3 years later, and €25 by the fifth year," Lazcano warned.
The solution, he says, is "an urgent plan" to fix the roads.
Meanwhile, the head of the DGT traffic authority, María Seguí, alerted the media about the fact that around 2 million vehicles are being driven on Spain's roads without a current Technical Vehicle Inspection (ITV) sticker.
Seguí said she was very concerned about this lack of regular checkups and the fact that the average age of the cars on the road in Spain is creeping up. "So far this year, the average age of vehicles that were involved in an accident is higher than last year," she warned.
Traffic authorities expect around 12.5 million road trips between Friday and Monday, April 21, coinciding with the Easter vacation.