Spain banks' bad loans ratio 13.4% in Feb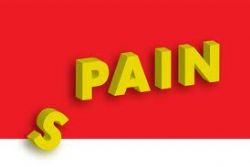 Spanish banks' bad debts as a percentage of total loans dipped slightly to 13.4% in February compared with 13.5% in December as both bad loans and total lending dropped.
Total credit in the financial system was €1.453 bln in February, down from €1.458 bln a month earlier, data from the Bank of Spain released on Monday showed.
Bad loans dropped to €195 mln from €197 mln a month earlier, after hitting a record high in December.
Spanish banks, crippled with sour assets after a prolonged property bubble burst in 2008, mostly forecast that bad loans will peak this year as the country pulls out of recession and lending picks up again.
Further Reading :
* Bank of Spain denies report of further stress tests this month