Spain to cut 2014 net debt issuance on higher tax revenue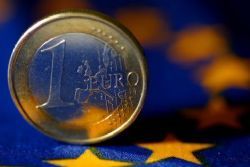 Higher than expected tax receipts and falling financing costs will allow Spain to sharply cut net debt issuance for 2014 from an estimated €65 bln, Economy Minister Luis de Guindos said on Wednesday.
Spain is due to present an update of its 3-year budget plans to the EU next week, which will include debt and growth forecasts.
The debt issuance target for 2014 would be "substantially and significantly" lowered, de Guindos told an economic event in Madrid.
Strong recent economic data could prompt the government to raise its 2014 economic growth forecast of 1%, which is already higher than the initial estimate of 0.7%.
The Bank of Spain expects GDP to grow by 1.2% this year and 1.7% in 2015.
De Guindos said he expected average GDP growth of 1.5% in 2014 and 2015 after 2 years of economic contraction.
"The important thing here is not the exact decimal point ... but that with 2 years of average growth of 1.5%, our outlook is going to be different," de Guindos said.
Spain has already raised 39% of this year's gross medium and long-term debt target of €133 bln, which includes redemptions of existing debt.
Recommended Reading :
* IMF raises 2014 growth forecast for Spain by 0.2 percentage points