Spanish yields hit new lows as economy accelerates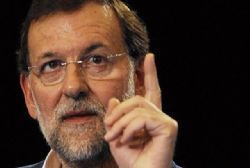 The cost for Spain to sell medium- and long-term debt fell to its lowest on record on Thursday as investors hunt for returns and after the Bank of Spain said economic output growth gained pace after 2 years of recession.
The Treasury sold €5.6 bln of bonds at yields not seen since at least the start of the euro currency zone while investors speculate the ECB will be forced to implement measures to combat low inflation and a strong euro.
Spain concentrated on the longer-dated 10-year benchmark, as the Treasury works to extend average maturity. The bond sold €2.6 bln at an average yield of 3.059%. That's a long way from the over 7.5% recorded at the height of the debt crisis in 2012.
The Treasury also sold €1.3 bln of a 3-year bond at a yield of 1.022% and €1.6 bln of a 5-year bond at a yield of 1.663%.
Strong demand for Spanish debt at the auction was due to growing confidence in the economy, hopes the ECB will embark on a quantitative easing programme and rising optimism amongst the ratings agencies, said strategist Annalisa Piazza, of Newedge Strategy.
Following the sale, the Treasury has sold more than 43% of its bond issuance target for this year.
The Bank of Spain said earlier on Thursday it expected the economy grew 0.4% quarter on quarter in the January to March period, twice the rate registered just a quarter earlier. The economy grew 0.5% year on year, the Bank said. If confirmed, it would mark the first annual growth for any quarter since mid 2011.
Spain's economy has been shrinking or stagnated since a property bubble burst in 2008, though emerged from the latest 2-year recession in the second half of last year and is expected to register growth of around 1% this year.