Argentina OKs settlement with Spain's Repsol over YPF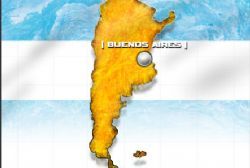 The lower house of Argentina's Congress has approved a deal to compensate Spain's Repsol for the 2012 expropriation of its 51 percent stake in Argentine oil company YPF.
The lawmakers passed the bill early Thursday by a vote of 135-59 with 42 abstentions after 16 hours of debate.
The settlement, which the Argentine Senate and Repsol's board had earlier approved, calls for Argentina to pay Repsol $5 billion in dollar-denominated bonds maturing between 2017 and 2033.
Under the agreement, Argentina will deliver Repsol an initial portfolio of bonds with a face value of $5 billion, the Spanish oil major says on its Web site.
However, if the market value of that portfolio does not amount to at least $4.67 billion four business days prior to the closing of the deal, Argentina must deliver additional bonds to Repsol up to a maximum additional face value of $1 billion, the company adds.
Repsol, for its part, agreed to withdraw all judicial and arbitration proceedings against Argentina in international courts.
President Cristina Fernandez's administration says the compensation is fair and in the country's interests and will enable YPF, henceforth free of court battles with Repsol, to attract investment for its ambitious $35 billion exploration and production plan for the 2013-2017 period.
The opposition questions the amount and conditions of the compensation to be paid to Repsol and criticizes the government's energy policy.
YPF has been under Argentine government control since Congress gave the green light in May 2012 for the expropriation of a controlling stake in the company from Spain's Repsol, whose interest in the Buenos Aires-based company has been reduced to 12%.
YPF posted net income last year of 5.7 billion pesos ($710 million), up 45.6% from 2012.