Civil Guard officer injured after clash with Gibraltar police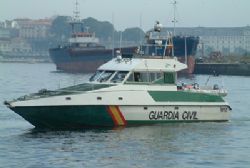 A Civil Guard officer was injured on Thursday after he was involved in a clash with Gibraltar police.
According to Spanish law enforcement sources, the incident began when the Civil Guard intercepted a vessel near Gibraltar carrying contraband goods – 300 packs of cigarettes – and took over the boat to bring it into the nearby Spanish port of La Línea de la Concepción, in Cádiz province.
A Gibraltar patrol boat intervened to try to prevent the operation, ramming the smugglers' vessel with the Civil Guard officers aboard. Later it attempted to tow the vessel back to Gibraltar, at which point there was a tense face-off between police officers from both sides.
A second Civil Guard ship was finally able to take control of the smugglers' boat and tow it into the Spanish port.
A spokesman for the Civil Guard Unified Association said a formal complaint would be filed.
"We consider this to be a clear criminal act against the Civil Guard during the exercise of its duties," said Juan Antonio Delgado. "In an incident such as this one something more serious could have happened, and that is why we demand that the government take action to stop the escalating harassment by the Gibraltar police against the Civil Guard."
Delgado also pointed out that such incidents were happening "practically on a daily basis."
Read the timeline of the ongoing conflict over Gibraltar by clicking the link > HERE <