Castellon Airport Slammed for €26 Mln Sponsorship Expenses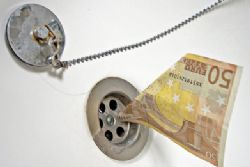 The Generalitat Valenciana's further excessive spending on Castellσn airport plummet to new depths last week when documents were published revealing how a further €26 Mln had been wasted on sport sponsorship.
The sum was spent by Aerocas - the concession holder of the Airport, 99% owned by the Generalitat - to sponsor public events between 2006 and 2010.
Despite construction work at the airport not being finished until March 2011, former Aerocas President, Carlos Fabra, signed sponsorship contracts with Castellon, Villareal and Benlloch Football Clubs to cover expenses ranging from travel, tickets and strips.
Compromis Deputy Marina Albiol cited one of the most striking examples as being Aerocas subsidizing a trip for 20 people to the UK in August 2009, which alone cost €18,000.
Albiol went on to criticise the 30 plus cases of public money being wasted by Fabra in what was nothing more than supporting his personal friends and acquaintances.
Other beneficiaries of Aerocas sponsorship of were the Aprilia Racing Team; Team Lotus Motorsport Aprilia 48; Aeroclub Castellσn and the Castellon Athletics club.
"The correct way to subsidise sporting events and institution is not through Aerocas, but the Ministry of Education," the Deputy maintained.
Albiol estimated that the 'wasted' €26 mln could have been used to build a total of 13 health centers and 16 schools, yet were squandered on a questionable means of promoting a airport that was not yet operational.
Albiol also slammed that fact that 29 of the 30 sponsorship agreements had been classified by Aerocas Senior Managers as "Confidential" - meaning that the information could not be copied or shared with others - and lessen the risk of the information being made public.
Further Reading :
* Castellon Airport costs Valencia €46k per day
* Ex-Chief of Castellon Airport Sentenced
* Castellon Airport wastes €11 Mln on Nepotism