Spain Q1 unemployment rate inches up to 25.9%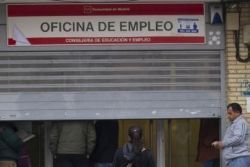 Spain's unemployment rate edged higher in the first quarter, data showed on Tuesday, as a slow economic recovery failed to offset a traditionally bad 3 months for job creation in the tourism-dependent country.
The rate rose to 25.9%, according to the National Statistics Institute (INE), up from a revised 25.7% in the previous quarter.
Spain's economy is just starting to pick up again after being in a slump since 2008.
"All the recent data has been pointing to an improvement in labour conditions, and this data seems like a real disconnect from that. However, the first quarter is traditionally very bad for unemployment, which even before the economic crisis was bad," said economist at Deutsche Bank Gilles Moec.
The number of unemployed people fell by 2,300 in the quarter.
But that was due to a sharp drop in the workforce as long-term unemployed, immigrants and people over 60 stopped seeking work.
The workforce shrank by 187,000 people to 22.884 million and the total number of people in work also fell, by 184,600 to 16.961 million, the statistics institute said.
The figures saw some distortion from seasonal hiring during the busy Easter week - which fell in the first quarter last year and in April this year.
Spain's unemployment rate is the 2nd-highest in the EU, with almost a quarter of all those unemployed in the 28-country region residing in Spain.
The government currently sees unemployment at 25.9% this year though has said it expects to revise forecast lower as net jobs are created amid the economic recovery.
Economy Minister Luis de Guindos has said he expects the economy to grow by an annual average of 1.5% in 2014 and 2015, after contracting by 1.2% last year.
But job creation is expected to be slow, with the Bank of Spain seeing only unemployment falling to 23.8% in 2015. Pre-crisis levels, when unemployment fell to just below 8%, are not expected to be reached again for decades.
On an annualised basis, the total number of unemployed fell by 344,900 people in Q1, the largest annual drop since Q3 of 2005. Meanwhile, the workforce shrank by 424,500.
Further Reading :
* Spain unemployment to take decades to recover
* 5 Spanish regions top EU unemployment table for 2013