Ryanair announce new routes from MCR - Spain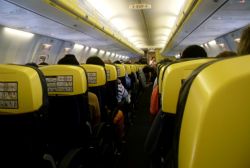 Budget airline Ryanair have launched their Winter 2014/2015 schedules, with the introduction of 4 new routes between Manchester Airport and Spain.
The new routes will link the Northern UK airport to Barcelona El-Prat; Fuerteventura El-Matorral and Gran Canaria Las Palmas Airports.
Frequencies on a number of other flights between Manchester and the Spanish mainland and the Islands have also been increased.
As usual, Ryanair are celebrating the announcement with the offer of over 100,000 seats starting at just £19.99 from the 1st of May.
As from October 21st the airline's routes from Manchester will include Girona; Barcelona; Reus; Madrid; Valencia; Palma-Mallorca; Ibiza; Alicante; Murcia *(San Javier) ; Malaga; Lanzarote; Fuerteventura; Gran Canaria and Tenerife South.
(* Clearly having zero confidence in Corvera Airport becoming operational in time for the Winter 2014 / 2015 schedules...)