Spain's economy grows at fastest pace in 6 years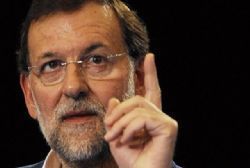 Spain's GDP rose at its fastest quarterly pace in 6 years in Q1 while inflation accelerated, in the latest sign the country's economy is picking up steam after years of recession.
Economic output rose 0.4% on a quarterly basis, double that reported in the final 3 months of 2013. Year on year, the economy expanded a greater-than-expected 0.6%, the sharpest increase in three years, National Statistics Institute data showed on Wednesday.
EU harmonized consumer prices meanwhile, which in March shrank 0.2%, rose 0.3% year on year in April, as expected.
That may serve as a pointer for euro zone inflation numbers due later in the morning, which are expected to show a rise to 0.8% from 0.5% in March, easing pressure on the European Central Bank to act against deflationary trends.
While Spain's economic output and consumer prices pointed to a return to growth, however, weak domestic demand continued to weigh on hopes of a sustained recovery, with retail sales falling 0.5 percent in March, the largest drop since December.
"Retail sales were very weak, and that's a little worrying," said economist at Citi Jose Luis Martinez.
"They may reflect the continuing weakness of domestic demand, and suggest that the second quarter will growth less than in the first. We'll have to wait until GDP breakdown to see what happened."
The statistics institute reports final gross domestic product data on May 29.
Spain emerged from recession in the second half of 2013 - its 2nd since 2008 after a burst property bubble crippled the economy and left millions out of work.
Its unemployment rate, the 2nd highest in the euro zone after Greece, rose in the first quarter as the workforce shrank. Massive unemployment has weighed heavily on Spanish domestic demand, worth over two thirds of economic output.
Spain is the first euro zone country to report first quarter GDP figures. The inflation data for the euro zone is due at 5 a.m. EDT.
Recommended Reading :
* Government ups growth forecast to 1.2% in 2014 and 1.8% in 2015