Spain Dominates 2014 Michelin World's Top 50 Restaurants List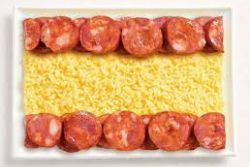 The Michelin 2014 fine dining awards has once again seen Spain dominate the top ten of all the world's restaurants.
However, the prestigious No.1 position slipped away from last year's winner : El Celler de San Roca (Girona), and back to Noma (Copenhagen), who had topped the tables in 2010, 2011, 2012 and 2014.
As with previous years, the Basque country proved to be the place to dine.
Spain's entries in the 2014 Michelin top 50 restaurants in the world include :
No.2 El Celler de San Roca (Girona) - (No.1 2013)
No.6 Mugaritz (San Sebastian) - (No.4 2013)
No.8 Arzak (San Sebastian) - (No.8 2013)
No.26 Azuermendi (Larrabetzu)
No.34 Asador Etxebarri (Atxondo) - (No.44 2013)
No.35 Martin Beragategui (San Sebastian)
No.41 Quique Dacosta (Denia) - (No.26 2013)
Further Reading :
* Spain's Michelin food guide sees new 3 star restaurant
* Spain Dominates World's Best Restaurant 2013 List
* Spain Sees Food Tourism Explosion