Spanish Unions Demand End to Austerity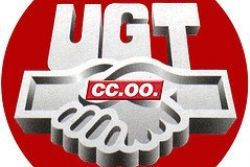 The leaders of Spain's two largest unions demanded Thursday that the government change economic course and reverse austerity measures adopted in recent years.
During a May Day rally, the secretary generals of the CCOO, Ignacio Fernandez Toxo, and the UGT, Candido Mendez, gave speeches blasting the government's statements about an economic recovery as "propaganda."
The union chiefs said they would not acknowledge an incipient recovery until Spain's unemployment rate, which currently stands at around 26 percent, begins to fall.
Mendez criticized business leaders who talk contemptuously about young people who are unemployed and not attending school, blasting those bosses as "incompetent and powerless to contribute anything positive" in terms of job creation.
Both Toxo and Mendez chose to celebrate International Workers Day in the northern city of Bilbao instead of Madrid, the traditional epicenter of Spain's May Day rallies.
Even so, thousands took part in a May Day event in the capital, calling on Spaniards to support candidates in the May 25 European Parliament election who oppose the EU's economic policies and the Spanish government's deficit-focused austerity drive.
Under pressure from Brussels, Spain in recent years has adopted measures including increasing the value-added tax and reducing unemployment benefits.
The CCOO's secretary for Madrid, Jaime Cedrun, recalled Chicago's deadly Haymarket affair of 1886 – the origin of international May Day observances – and dedicated the day to all workers who gave their lives for the labor movement.
In Barcelona, Spain's second city, demonstrators also demanded an economic policy shift to reduce unemployment, job insecurity and social inequality.
More anti-austerity protests were held in other large cities including Valencia, Zaragoza, Palma de Mallorca and Granada.
The Iberian nation, which was battered by the 2008-2009 global recession and the collapse of a decade-long property boom, emerged from a double-dip recession last year but that growth has been slow and not been sufficient to dent the high jobless rate.
Recommended Reading :
* Spain : Protests and the suffocating embrace of the law