Vodafone Includes 4G Roaming For UK Subscribers in Spain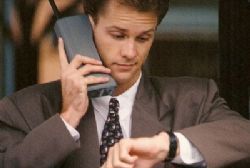 Clients of Vodafone are now able to use their UK allowances whilst in Spain following the launch of their "EuroTraveller" service - reduced to £2 per day until August 31.
Vodafone has extended 4G roaming to Italy, Spain and Portugal following the launch in Greece last month, which enables consumers to use the service on Vodafone's own networks in the above countries.
Furthermore, any contract customer opting into Vodafone EuroTraveller can now use their UK monthly allowances in 40 countries for £2 per day until August 31 - down from £3 per day.
With Vodafone EuroTraveller, calls received whilst travelling in this group of countries are free and customers only pay for the days they use their mobile.
Vodafone clients not opting into this service will be charged 24.5p per minute to make calls and 7.1p to receive them, 8.1p per text, 45.9p per MB when using the internet on a mobile and 45.9p when using the internet on a tablet, dongle or via mobile Wi-Fi.
Recommended Reading :
* Vodafone Spain fined 31Mln for roaming charges