Spain's La Liga Lures Investors as Soccer Clubs Improve Finances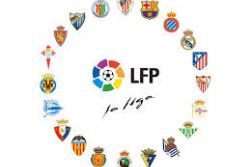 Spanish soccer clubs are beginning to attract foreign investors because of their success on the field and off it, where some are starting to become profitable, the government's top sports official said.
With Real Madrid and Barcelona - Spain's biggest teams - ruling out a takeover, investors have mostly ignored other clubs. That's changing as the teams reduce debt by trading players and cutting payroll costs, Miguel Cardenal, secretary of state for sport, told reporters yesterday at a briefing on team finance in Madrid.
The 42 clubs in the top two divisions had combined net income of €106 mln for the year through June 2013, Cardenal said. The figure, the highest since records began in 2000, follows six seasons of combined losses. The clubs reduced combined debt by 5% to €3.6 bln, Cardenal added.
Belgium's Roland Duchatelet, who also owns Standard Liege and Charlton Athletic in London, acquired Alcorcon, a second-tier team based on the outskirts of Madrid, in January.
Singapore billionaire Peter Lim is among investors interested in acquiring Valencia, club president Amadeo Salvo said in December. Club takeovers must be approved by the government.
"Sometimes people arrive in football to achieve notoriety and become famous but it's also an interesting investment," Cardenal said. "In the last 8 or 9 months we've had a lot of enquiries about buying clubs."
Spain's national team - which includes Barcelona's Andres Iniesta and Manchester City's David Silva - is the defending world champion. Real Madrid and Atletico Madrid have reached the Champions League final, which is on May 24, and Sevilla has advanced to the final of the second-tier Europa League.