IU-Verdes Criticise Corvera Airport as "Presidential Whim"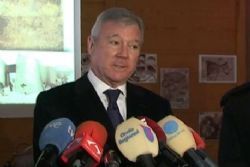 The IU- Verdes political candidates for the European Parliament, José María Ortega and María Marín, attended a rally outside Corvera airport on Sunday in protest against the regional government of Murcia's continued support of the facility which "is against the interests of the public".
A further 50 supporters attended the rally, including the coordinator of the IU-Verdes for Murcia, José Antonio Pujante, together with a number of Councillors from neighbouring municipalities.
Ortega went on to denounce the project as "nonsense" and questioned the legality of the "undemocratic planning works", and that Corvera Airport was not in the interests of the public, but only in the interests of companies closely allied to the Partido Popular.
Moreover, he criticised the €180 Mln debt generated by the airport on "the whim of a [former] President who has refused all requests for explanations or debate and fled to Brussels."
Ortgega called upon the people of Murcia to hold the PP to account for the failures of Corvera Airport when voting in the European Elections on May 25th.
Further Reading :
* Spain and the shame of Murcia