Spain Prosecutes Latin American Crime Gang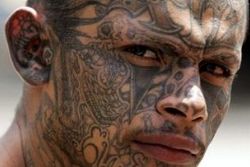 Spain's Supreme Court said the Trinitarios, a gang with roots in the Dominican Republic, is a "criminal organisation" in a ruling permitting longer jail terms for members who tortured one of their own.
The high court upheld convictions of seven members of the Hispanic gang, which has extended through the U.S. northeast and is tracked by the Federal Bureau of Investigation. The court relied on a 2010 law in Spain that strengthened penalties for prosecutors going after organized, armed groups that commit serious crimes, according to a statement today by the Judiciary, the Spanish courts system.
Crime linked to Latin American gangs is an emerging challenge for the police and the courts in Spain, where organised groups couldn't establish operations until after the Franco dictatorship ended in 1975. Soaring unemployment has also fanned gang acceptance among youths.
The high court endorsed a Barcelona court sentence that gave leaders of the Trinitarios nine years and two months in prison for punishing a member for distancing himself from the gang and associating with a rival, according to the Judiciary.
As many as seven years and two months were given to the "soldiers" who carried out cutting an "X" on his back with a kitchen knife, a wound that needed 83 stitches.