Spain Fields 'Most Experienced' MEP Candidates : Report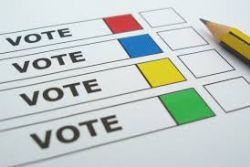 Two researchers from the University of Leiden in the Netherlands have published a report into the backgrounds and CV's of the 318 candidates due to stand in next week's elections for the European Parliament.
According to the study, Spain is one of the few Countries who seems to take the elections seriously, by fielding experienced political candidates.
Belgium and France also rank highly, while potential MEPs from the Czech republic, Denmark and the Netherlands field candidates with the least political experience.
Candidates were analysed by being awarded points for political experience and how recently the experience was gained.
If someone had been government leader or head of state just before being a candidate for the European Parliament, he or she received 700 points. Someone who had that position more than 2 years ago received 500 points and if it was more than 8 years ago, 200 points.
Current membership of a national or federal parliament got 190 points, while 110 were given if more than 2 years had passed. Current European Commissioners received 300 points, current MEPs 100 points.
The two MEP candidates with the highest score (1,170) were both Belgians: former Belgian prime minister Guy Verhofstadt (Alde) and former minister in several cabinets Steven Vanackere (EPP).
The average points of all 11 member states under research was 234.
The researchers also looked at 565 people who were members of the European Parliament in the periods 2004-2009 and 2009-2014.
Belgium topped the tables with 300 points, with Spain just behind with 293.
At the bottom of the ranking is the Netherlands, with an average this year of 112. There are no Dutch candidates with a score higher than 400 – nor were there any in 2004 and 2009.
Denmark (average score of 161), Czech Republic (180) and the United Kingdom (193) have also put relative political rookies on the ballots.
According to the lead researchers, Wim Voermans and Jerfi Uzman, the scores indicate how important the European Parliament is in the eyes of national political parties. They plan to widen their research with data from other member states.
The 11 states included in the study were: Austria, Belgium, Czech Republic, Denmark, France, Germany, Luxembourg, Netherlands, Portugal, Spain and the UK.
Recommended Reading :
* Spain's PP to lose share in EU elections : Poll
* Murcia's President Valcarcel resigns to stand in EU elections