Spain steps up border checks in Gibraltar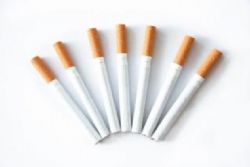 Far from easing up on the border controls that cause long lines of traffic at the border between Gibraltar and Spain, the Spanish government is planning on increasing them.
The Office for Diplomatic Information claims in a press release that "Britain has not adopted the necessary measures to fight smuggling," and that, "unfortunately, cooperation by Gibraltarian authorities, far from improving, appears to be regressing."
Seizures of smuggled cigarettes at the border of the disputed British territory grew 213% between 2010 and 2013, reaching close to a million, according to the Spanish Foreign Ministry.
In the first 2 months of 2014, Spanish police found 137,815 cartons inside vehicles crossing the border into La Línea de la Concepción (Cádiz).
"Given the gravity of the situation, controls will be intensified when deemed relevant," reads the note, which was released on Friday, a day after a six-month EU deadline expired asking Madrid and London to cooperate in the fight against tobacco smuggling and traffic jams at what is known as La Verja (literally, the gate).
Meanwhile, the government of Gibraltar issued its own note on May 15 claiming that its work to implement the EU's recommendations was nearly done, while Spain had barely begun.
"It is obvious that if Spain had put the recommendations into practice, there would have been an appreciable improvement in border traffic," read that release.
The British minister for Europe, David Lidington, went further, saying that "disproportionate and politically motivated searches continue to cause great difficulties" for Gibraltarians and Spaniards living in the area. He added that London will keep up diplomatic pressure against Spain "until the border controls return to reasonable, proportionate levels."
According to the government of Gibraltar's Chief Minister Fabian Picardo, in March the maximum average waiting time to enter Gibraltar was 63 minutes, and 91 minutes to exit. It was the same in February. On days when Real Madrid or Barça are playing a soccer match, the lines magically disappear, authorities from The Rock say.
Meanwhile, both London and Madrid claim they have followed EU recommendations.
The Spanish Foreign Ministry underscored that EU inspectors who visited the site on a fact-finding mission on September 25, 2013 confirmed that Spain has the right to conduct border checks along a territory that is not part of the Schengen Area, which does not require passport controls.
The 2.3-square-mile territory of Gibraltar was ceded to Britain in 1713 under the Treaty of Utrecht, but Spain's claims to sovereignty have been a thorn in the side of Anglo-Spanish relations for many years. Home to around 30,000 people, the territory voted in a 2002 referendum against coming under Spanish sovereignty. The latest diplomatic spat between the UK and Spain over Gibraltar flared up last summer, as Spanish authorities upped checks at the border in response to a row about fishing rights in the disputed waters around the territory.
Further Reading :
* EC's Spain / Gibraltar traffic deadline expires