EU Questions Spain's Tax Plan to Bolster Banking Capital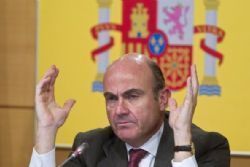 Eurostat, the EU statistics agency, plans to meet Spanish officials to discuss the government's decision to guarantee about €30 bln of deferred tax assets for banks to bolster their capital, a person familiar with the matter said.
The agency may meet Spanish officials as soon as next month, said the person, who asked not to be named as the matter is private. Eurostat wants to assess whether the program should count toward the country's budget deficit and public debt, said the person.
The government extended the guarantees last year because new international financial regulations known as Basel III would otherwise force lenders to exclude DTAs from their capital over 10 years. Spanish banks such as Bankia and Banco Sabadell that took on troubled institutions during the crisis were set to be particularly hit.
Spain sought a way of using the public balance sheet to bolster the capital base of its banks without having to add the cost to the government's deficit. Economy Minister Luis de Guindos adopted an approach first applied in Italy, under which lenders will be able to claim the full value of their DTAs from the government in the event that they go bankrupt.
Eurostat doesn't comment on ongoing discussions with national authorities, Luxembourg-based spokesman Tim Allen said in a telephone interview. A spokesman at the Spanish Economy Ministry in Madrid said the government doesn't comment on its discussions with Eurostat. A spokeswoman at the Budget Ministry didn't respond to three calls and an e-mail requesting comment.
The inquiry may be extended to other countries, the person said.
DTAs are created when banks suffer losses that they can use to reduce their future tax expenses. The large amount of DTAs in the Spanish banking system mostly stems from losses booked in 2012 as the government forced banks to clean up their real estate holdings.
Guindos said in November that the Spanish approach meant there would be no significant impact on the budget deficit or debt numbers.