Rajoy : Wish You Weren't Here ?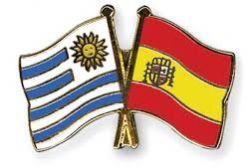 The BBC News Micro-site and Twitter account #BBCTrending has reported an upswell of respect by Spaniards for the President of Uruguay.
Using the hashtag '#UnPresidenteDiferente' (a different President), over 100,000 Tweets have been posted, mostly by Spaniards in support of President Mujica, and comparing him favourably against their own Prime Minister Mariano Rajoy.
The upswell of opinion began shortly after Mujica gave an interview on Spanish TV on Sunday night, which portrayed the President of Uruguay driving an old car, donating a large portion of his salary to charity, and having a largely modest and humble lifestyle.
Mujica was also seen to declare himself an atheist and spoke of the separation of state politics from the Vatican.
The Spanish public have not been slow in drawing comparisons between Prime Minister Mariano Rajoy, and the ruling Partido Popular, and the country's seemingly endless stream of corruption involving those in positions of power and influence over recent years.
Recommended Reading :
* Spain to offer legal immunity to Royal Family
* 95% of Spaniards see corruption as institutionalised
* "Spain is not corrupt" : Rajoy