Spain's Liberbank to raise up to €575 mln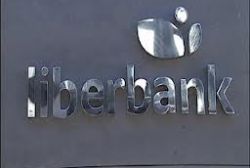 Spain's Liberbank, which needed government support during the country's banking crisis, said on Wednesday it was launching an accelerated share sale ahead of a rights issue, which together aim to raise up to €575 mln.
The bank, based in the north of Spain, said it was raising funds to repay state aid and to help it strengthen its capital ratios under international rules.
Banks across Europe are selling assets, cutting lending or raising capital to bolster their financial strength as they face Europe-wide health checks this year.
Liberbank said it would sell about €375 mln shares through an accelerated bookbuilding offer, due to be completed by Thursday. Its controlling shareholders, a group of savings banks, will sell some of their existing stock in the offering and the bank will also issue around 120 million of new shares.
The process will allow the savings banks to reinvest the funds they raise - around €200 mln, according to Reuters calculations based on Liberbank's share price - in the subsequent rights issue. Their combined stake will fall to just under 50% from 66%, the bank said.
Liberbank said it already had commitments covering part of the accelerated share sale, from two Mexican private investment groups - Inmosan and Davinci Capital - and existing Spanish shareholder Corporacion Masaveu.
These firms will hold about 12% of Liberbank after the transactions, a source familiar with the matter said.
Spain's government recently passed a reform of the country's savings banks, or 'cajas', which makes it more costly for them to keep majority stakes in underlying commercial banks.
The 'cajas', many of which have now disappeared or been absorbed by bigger banks, were crippled by property investments that turned sour after a 2008 housing crash. Their problems pushed Spain to ask Europe for €41.3 bln in rescue funds two years ago for the financial sector.
Liberbank took €124 mln in aid, in the form of bonds that can be converted into capital.
The bank said it would issue about 1 billion shares in a rights issue after the share sale, and aimed to raise between €400 mln and €475 mln through that operation.
Liberbank's stock closed 2.8% down at €0.86 per share on Wednesday.
Recommended Reading :
* Spain 's Liberbank plans 500 mln share offer to repay state aid