Spain's Ciudad Real Airport Sale Hits Further Problem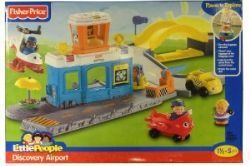 Attempts by the administrators of Ciudad Real airport to sell the [formerly] privately owned facility have run into further problems.
To date, the only company to have openly expressed an interest in buying the airport in the latest round of bidding, has been found to have a convicted drug-trafficker as one of the partners.
According to reports in La Verdad, Grupo Orden 12 is the only company to have submitted a bid in the recent round of attempts to sell the stricken airport, a consortium headed by businessmen Asensio Madrid Muñoz, associated with the fields of construction, real estate , fuel and service stations, and, José Luis Lara Ruiz de la Hermosa, who has interests in construction.
Both claim to be nothing more than brokers representing unknown investors.
The consortium have placed a bid of just €60 Mln - €30 Mln below the minimum €90 Mln requested for this round of bidding, and €60 Mln below the amount set in the first [unsuccessful] round of bidding at the start of the year.
According to sources, the anonymous investors are British, with connections to the Tax Haven of Liechtenstein, having intentions to use the facility for purely commercial purposes, to promote the facility as an import / export logistics hub.
However, La Verdad goes on to report how Muñoz Asensio was convicted in 2010 for drug trafficking, being sentenced to 2 years in prison, where he then picked up a further 3 months conviction after being found guilty of attempting to bribe a Guardia Civil Officer to influence his original case.
Grupo Orden 12 has paid the receivers of the Ciudad Real Airport the sum of €100,000 to extend the bidding process until May 30th.
Should the bid be accepted, Muñoz Asensio would not hold the esteemed position of being the only criminal to head a Spanish Airport, following on from Castellon Airport's Carlos Fabra and his conviction for fraud, tax evasion and bribery earlier this year.
Recommended Reading :
* Ciudad Real Airport back in operation (Just not as an Airport)
* Ciudad Real Airport : "6th Most Visited in World 2013"
* Businessman Makes 3rd Offer to Buy Ciudad Real Airport