Barclays Seeking Buyers For Spanish Retail Division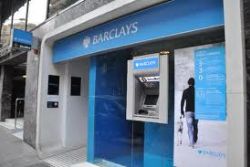 Britain's Barclays is sounding out potential buyers for its Spanish retail bank, people familiar with the matter said, adding that local peers and private equity firms could be interested in parts of the business.
Barclays earlier this month outlined a major restructuring and as many as 19,000 job cuts as it refocuses on its British and African businesses, investment banking in the UK and United States, and credit cards.
It will park its retail banking operations in Spain, Italy, France and Portugal in a "bad bank", and these will be sold, separated or floated.
Barclays is contacting potential bidders with preliminary information about the Spanish unit and confidentiality agreements, 2 banking sources familiar with the process said, adding no formal auction was yet underway.
"Everyone knows all (the European businesses) are for sale, but Spain seems to be priority or the one getting interest," one banker said.
Private investment firms are expected to vie for the retail network, three sources said. Centerbridge Partners, which bought loan servicing company Aktua from Santander in Spain and has been a bidder for debt packages being sold by local banks, could be among those interested, one of the people said.
Apollo Global Management , which has bought Spain's small Evo Banco, could also be a candidate, the person said.
Spain's top banks, Santander, BBVA and Caixabank , would be among those approached, two people said, while two further sources said smaller Bankinter could want to pick up private banking operations from Barclays.
The Spanish banks, Barclays and Apollo declined to comment. Centerbridge could not immediately be reached for comment.
The UK bank may end up having to split the unit or sell off loans if it does not get a bid for the whole division. Spanish banks are themselves cutting offices and costs as they recover from an economic slump and a property market crash.
"The decision on what assets Barclays will sell could come before the end of the week," another banking source said.
Like other banks seeking to exit retail banking in Spain, such as Citigroup , Barclays is likely to keep a team of local investment bankers, as an economic recovery spurs dealmaking. It has so far been handling the Spanish disposal with its own team of advisers, according to two sources.
Barclays expanded rapidly in Spain, including with the €1.1 Bln purchase of Banco Zaragozano in 2003, but hit problems from big losses on corporate loans and the recession. The bank's European retail business has lost almost £2 Bln over the last 4 years.
Barclays shut or sold 161 branches in Spain last year, reducing the network by more than a third to 270. About one-third of staff were cut, leaving roughly 2,100 in the business.
It sold some of the branches to small local savings banks, including 14 to Caja Rural Castilla-La Mancha in October.