Spain's Repsol Sells All Argentinian Assets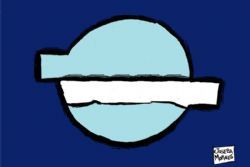 Spanish oil company Repsol has ended its operations in Argentina, two years after the government seized its assets. Last month the Argentine congress gave final approval to pay 5bn dollars in compensation for Repsol's stake in Argentine oil firm YPF.
The Spanish company has now announced that it has sold the last batch of bonds it received to cover its losses.
Argentine President Cristina Fernandez had accused Repsol of under-investing in oil production. Before the government seized Repsol's assets in April 2012, the Spanish company had just over 50% of YPF shares.
The company initially estimated the value of its assets at 10.5bn dollars but it later settled for about half of that amount. As part of the settlement, Repsol agreed to drop its lawsuits against Argentina.
The deal was seen as crucial in helping Argentina attract foreign investment in its shale oil and gas reserves in Patagonia, which are among the world's largest.
YPF is responsible for about a third of Argentina's oil and a quarter of its gas output. In 2010 Argentina started importing fuel for the first time since YPF was privatized in 1993.
President Cristina Fernandez blamed Repsol for draining YPF of its resources since acquiring a controlling stake in the 1990s, and not investing enough to cope with growing internal demand.
However it is also true that the Kirchner couple governments froze fuel prices in Argentina and at production level thus leading to zero investment in the industry and exploration for new resources.
Further Reading :
* Argentina OK's settlement with Spain's Repsol