Spain's PSOE leader quits after party's worst-ever election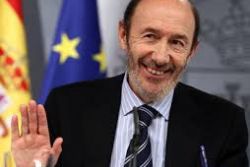 Spain's Socialist opposition leader Alfredo Perez Rubalcaba said on Monday he was stepping down after the party had its worst-ever election result on Sunday with an upstart rival leftist group grabbing 8 percent of the vote.
Recession-weary voters, unhappy with public-sector wage cuts, layoffs and corruption scandals also punished the ruling center-right Partido Popular.
The PSOE lost 9 of their 23 seats in the European Parliament while the ruling PP lost 8of its 24 seats. Together, the two parties that have dominated Spanish politics since the country returned to democracy in the 1970s, took less than 50% of the vote.
"It's clear that we haven't regained voters' confidence," Rubalcaba said in a televised news conference. "There has to be new leadership that takes on change."
Rubalcaba - an ex-deputy PM, former interior minister and one-time chemistry professor - said he was disappointed Spaniards had turned to other leftist groups.
The Socialists will choose new leaders at an extraordinary meeting on July 19 and 20, he said. The party has said it will hold its first open primary vote this year, before general elections due by early 2016, in an effort to win back voters.
SURPRISE NEW PARTY VICTORY
A brand new leftist party led by 35-year-old university professor Pablo Iglesias was the big winner in Spain's European elections on Sunday, taking 8% of the vote and 5 seats in the European Parliament.
The result for political scientist Iglesias and his Podemos (We Can) party came as a surprise. Pollsters had forecast at most two seats for the party, which launched its campaign a few months ago and only formally registered in March.
Podemos tapped into energy from various protest movements such as the Indignados (Indignant), which occupied public squares in 2011 to protest against austerity measures, the Green Tide marches against school spending cuts and the Stop Evictions campaign to keep mortgage defaulters in their homes.
"We're speaking the same language as the people. We know what they feel and we're making the same analysis they are," said Juan Carlos Monedero, 51, a Podemos founder and, like Iglesias, a professor of political science.
Monedero told Reuters on Monday that at European level the party would fight against corruption and the influence of banks on politics. In Spain, he said, it wants to unite with other movements and parties that are interested in rebuilding Spain's young democracy, starting with electing an assembly to overhaul the 1978 constitution.
Despite anger over one of Europe's highest jobless rates, Spanish voters did not turn to Eurosceptic nationalist parties as in much of the rest of the Europe.
Podemos came in at No. 4 after the PP, which scored 26% of the vote, the PSOE with 23% and a coalition including far-left United Left with 10%.
Iglesias enjoys wide recognition in Spain for his frequent appearances as a talking head on political shows on television.
Podemos did especially well in the region of Madrid, which includes the capital and has a population of 6.5 million, where it was the 3rd most voted for party.
Overall turnout on Sunday was 45.85% of eligible voters, higher than the Europe-wide turnout of 43.1% and also slightly higher than 4 years ago in Spain, partly due to robust turnout in breakaway-minded Catalonia.
In the populous region on the border with France, 56% of votes went to parties and alliances that are pushing for a referendum on independence from Spain.
Recommended Reading :
* Spain : Still "Indignant" after 3 years ?
* Spain's new party threatens political landscape
* Spain's PSOE party to elect new leader in November