Spain's Basque Country proclaims right to self-determination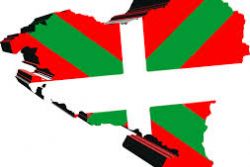 Lawmakers in Spain's Basque Country on Thursday adopted a declaration of self-determination, stepping up a push for more powers and potentially creating a new political headache for PM Mariano Rajoy.
The northern region - which already has significant self-governing powers and can raise its own taxes - is following in the footsteps of the regional parliament in Catalonia, which made a sovereignty claim last year.
The declaration adopted on Thursday was backed by 48 votes from the Basque National Party and the pro-independence party Bildu while the 27 lawmakers from the ruling center-right Partido Popular, the PSOE socialist opposition and centrist party UPyD voted against.
It was however unclear whether the Basque declaration, a political statement which carries no legal weight, would lead to further steps towards secession like in Catalonia.
The sovereignty claim comes as a tense political climate, fueled by decades of violence in which hundreds of people have been killed, has eased since the Basque separatist movement ETA declared an end to its armed struggle in 2011.
Spain's Constitutional Court said in March the Catalan declaration was "null and unconstitutional" but the Catalan government has said it remained committed to holding a referendum on secession from Spain on Nov. 9.
The ruling Basque National Party has said any right of self-determination should be negotiated with the central government.
In the case of Catalonia, Rajoy has offered to hold talks with Catalan President Artur Mas, but said he would not allow the wealthy northeastern region to vote on independence. His office declined to comment on the vote in the Basque Country.
The sovereignty claims are adding pressure on Rajoy as he tries to return Spain to sustainable economic growth and put more than 5 million unemployed people back to work.
They may also bode ill for next year's general elections as parties from the two regions are less likely to back a minority government in Madrid as they often did in the past given the ongoing tensions with Madrid.
Opinion polls show the PP and Socialists - who have essentially shared power since the end of General Francisco Franco's dictatorship in the 1970s - will need the backing of smaller regional and national parties to govern if they win the elections.
The Basque region had adopted a similar declaration in 1990 and an attempt to hold a vote on self-determination was blocked by the Constitutional Court in 2008.
Recommended Reading :
* Spain's PSOE leader quits after party's worst ever election
* Rajoy and Basque Premier meet to discuss the end of ETA
* Spain's breakaway states not guaranteed EU membership