Spain Growth Speeds Up as Consumer, Government Spending Rise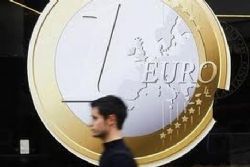 Growth gained momentum in Q1 in Spain, the euro area's 4th-largest economy, as household and government spending increased.
GDP increased 0.4% in Q1 from the previous 3 months, the National Statistics Institute in Madrid said today, confirming its April 30 first estimate. That marked an acceleration from PM Mariano Rajoy is counting on a recovery from a 6-year slump to tackle the budget deficit amid a 25% jobless rate. While rating companies have revised their call on Spain's ability to repay loans, its public debt load has more than doubled since 2007 to close to 100% of GDP.
"Spain's economy will continue to grow faster than the majority of other euro-region members," said Frederik Ducrozet, an economist at Credit Agricole CIB in Paris. "It has achieved a greater share of necessary structural adjustments, such as private-sector deleveraging, and investment and household spending should join exports as growth drivers."
Economy Minister Luis de Guindos said May 20 that leading indicators show Spain will expand at a similar pace this quarter. Deputy Economy Minister Fernando Jimenez Latorre said today the government expects the economy can sustain its growth rate.
"It confirms the change in the trend -- we're growing," Budget Minister Cristobal Montoro said today in comments broadcast by state television station RTVE.
Austerity Ease
As the ruling Partido Popular government eases the toughest austerity measures in more than 3 decades, household spending grew 0.4% from the previous quarter, when it expanded 0.5%, INE said. Investment shrank 0.6% after gaining 0.7% in the previous 3 months, while government spending rose 4.4%.
Miami-based fast-food maker Burger King Worldwide Inc. said last month it has room to open more stores in Spain while Nissan Motor Co.'s chairman for Europe, Paul Willcox, said on May 5 that a big increase in headcount is coming this year at its Barcelona plant where it has started the production of an electric van.
Funding Costs
Rajoy, whose 4-year mandate is due to end in 2015, has pledged to lower taxes starting from next year to boost domestic demand.
Economists predict household spending will rise 1.1% in 2014, helping the economy expand for the first time in 3 years. The European Commission forecasts growth of 1.1% this year and 2.1% next after a contraction of 1.2% in 2013.
The turnaround has pushed Spain's funding costs to record lows as investors return to its stocks and bonds. The Ibex-35 index of leading companies has gained 8% this year while the yield on the country's 10-year benchmark bond was at 2.84% at 2.13 p.m. in Madrid. That compares with a euro-era high of 7.75% in 2012, when the nation had to seek an EU rescue for its banks.
"Spanish debt is more attractive than that of other euro periphery countries because the country has undertaken reforms that can help exports," said Jorge Garayo, a fixed-income strategist at Societe Generale SA in London. "Spain should benefit more from external global growth improving."
The IMF said this week that the country "has turned the corner" and called on the government to take further measures to make the labor market more dynamic and to overhaul taxes in a growth-friendly way.
"Spain has made some very significant reforms," Robert Zoellick, chairman of Goldman Sachs Group Inc.'s international advisers and former president of the World Bank, said in an interview this month. "One of the challenges there will be sustainability, based on the politics of reforms."