Spain to pass €6.3 bln plan to boost jobs, cut taxes in June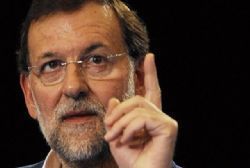 Spain will approve a €6.3 bln plan next week to create badly needed jobs and will cut the main rate of corporate tax to 25% from 30% to make companies more competitive, PM Mariano Rajoy said on Saturday.
About 1 in 4 workers in Spain is unemployed, with the jobless rate climbing to over 50% for people aged 25 or less. A tentative economic recovery has yet to feed into jobs and better living conditions for most Spaniards.
The tax announcement comes as the IMF this week asked Spain to increase tax revenues to protect its public services and make further efforts to cut its budget deficit to ensure a lasting economic recovery.
The jobs package is due to be passed by the government next Friday and will include credit to small and medium-sized firms and an investments targeting research and development, energy-saving, transport and industrial production, Rajoy said at an event in Sitges in northern Spain that was broadcast on Spanish television.
Measures to fix the public employment service will also be put forward, he said.
Later in June, the government would approve a wide-ranging tax reform, he said, including a cut in the corporate tax rate although companies would enjoy fewer tax breaks.
"The general idea is to cut taxes. We want families to have more money in their hands, boost consumption, increase the competitiveness of the entire economy, step up savings and contribute to creating jobs," Rajoy said.
The government already approved earlier this year a cut in social security contributions for companies creating jobs and Rajoy has said the reform would also include a cut in income tax for middle- and low-income taxpayers.
Spain's government forecasts that the country's ratio of public debt to GDP will reach 99.5% by the end of 2014, while the public deficit will remain high at 5.5% of GDP.
Recommended Reading :
* IMF calls upon Spain to raise VAT and lower corporate taxes