Spain arrests former ETA leader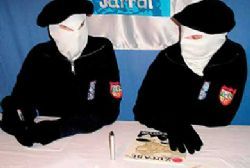 Harriet Aguirre Garcia, a former senior leader of the Basque group ETA, was arrested on Friday, Spain's interior ministry said.
Garcia, 35, was arrested in France in 2005 on an international warrant and jailed in Spain, where he was wanted for the March 2001 murder of a deputy mayor, the ministry said.
He was believed at that time to be the number two in ETA's military wing.
However, it is not clear when he was freed, or why he was arrested again.
ETA, which announced an end to violence in 2011, is blamed for the deaths of 829 people in a four-decade campaign of shootings and bombings for an independent Basque homeland in northern Spain and southwestern France, AFP reports.
Earlier this year, the group said it would put its arsenal of weapons "out of operational use", in a historic first step towards disarmament.
Recommended Reading :
* Spain's Basque Country proclaims right to self-determination
* Coke Spain cocks it up again