Spain sees unemployment fall in May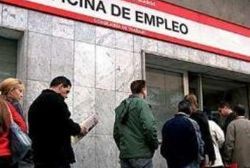 Spain's number of registered jobless fell between April and May, as a result of a growth in economic activity and a decrease in the country's workforce through emigration and discouragement.
Spain's Ministry Labour said on Tuesday how the number of people filing for unemployment benefits fell by 111,916 from April, the largest ever drop in any month of May. Over the last 12 months, the ministry added, jobless claims are down by 318,543.
The number of people registered as employed with the social security system, a rough measure of total employment, rose 1.6% in May to 16.63 million compared with the same month last year, the government said. The numbers support government and private-sector projections that Spain is likely to see some employment growth this year.
Overall, 4.57 million people were registered as unemployed in Spain in May. In the first quarter, the country's unemployment rate stood at close to 26% of the workforce.