Spain polls opinion for referendum to abolish monarchy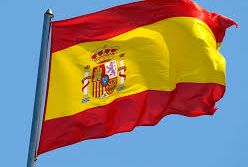 Most Spaniards hope to have the future of the monarchy put to a popular referendum some day, according to an opinion poll commissioned by EL PAÍS.
According to the Metroscopia survey, 62% of respondents favor such a vote, as opposed to 34% who oppose it.
What's more, a majority of respondents applauded King Juan Carlos' decision to abdicate, made public a week ago.
Despite broad support for a referendum, the poll revealed that only a minority of Spaniards would in fact prefer a republican form of government. Nearly half of respondents said that if asked, they would still support a monarchy headed by Felipe VI, while 36% said they would demand a return to a republican form of government.
The last time Spain had such a system was between 1931 and 1939. The king's announcement last Monday triggered several street demonstrations by pro-republican protesters that same evening, with more protests at the weekend.
Juan Carlos' decision also underscored the fact that Spain still lacks specific legislation addressing the precise rules of a royal handover.
Congress is scheduled to vote on the abdication on Wednesday, with broad support expected. While the ruling Popular Party (PP), the main opposition Socialists (PSOE) and the center party Unión, Progreso y Democracia (UPyD) will back the royal transition, leftist groups including the United Left and a few regional parties will vote no and request a referendum instead.
While these deputies represent under 10% of the lower house of parliament, the Metroscopia survey shows that the percentage of Spaniards who want a referendum is much higher than that.
The poll also shows that younger respondents and those who vote for the left are more supportive of a referendum on the monarchy. In the 18-to-34 age bracket, representing citizens who have always lived in a constitutional democracy, that percentage shoots up to 74%.
The answers also evidenced a significant breach between what Socialist voters want and what their representatives do. While PSOE leaders do not support a referendum on the form of government, either now or in future, 68% of PSOE voters said such a referendum must take place at some point.
By comparison, 60% of PP voters reject a referendum.
Crown Prince Felipe's popularity ratings are higher than his father's, although Juan Carlos continues to enjoy wide respect for his role during the coup attempt of February 23, 1981, which he is credited with quelling by failing to support the military uprising.
The youngest respondents, who did not personally experience the transitional period from Franco's dictatorship to democracy in the late 1970s, show the least support for an institution, the monarchy, which older voters viewed as a part of the democratic package.
Recommended Reading :
* Spain's King Juan Carlos Abdicates