Caixabank considers offer for Barclays Spain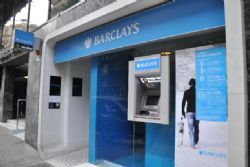 Caixabank is considering making an offer for Barclays' retail business in Spain, which analysts value at up to 2.2 billion euros (1.7 billion pounds), the Spanish lender's chief executive officer told the Wall Street Journal.
Caixabank has been among the most acquisitive banks during the financial crisis, snapping up bailed-out peers to increase its market share across Spain.
"We have a lot of interest," said Caixabank CEO Juan Maria Nin in an interview posted on the newspaper's website on Thursday, adding the Barcelona-based lender was in talks with Barclays but had not yet begun an analysis of its mortgages and other loans.
Caixabank is also interested in fellow Catalan bank Catalunya Caixa, nationalised in 2012, said Nin. The state put the bank up for auction earlier this month and bidders have until July 14 to submit binding offers.
Barclays in May outlined a major restructuring and as many as 19,000 job cuts as it refocuses on its British and African businesses, investment banking in the UK and United States, and credit cards.
It will park its retail banking operations in Spain, Italy, France and Portugal in a "bad bank", and these will be sold, separated or listed on the stock market.
Banking sources told Reuters last month that Barclays was contacting potential bidders with preliminary information about the Spanish unit and confidentiality agreements.
Private investment firms and Spain's top banks Santander, BBVA and Caixabank would be among those approached, people familiar with the matter said. The acquisition of Barclays' offices would bolster Caixabank's market share in Madrid, Nin told the Wall Street Journal.
Barclays expanded rapidly in Spain, including the 1.1 billion euro purchase of Banco Zaragozano in 2003, but hit problems from big losses on corporate loans and the recession. The bank's European retail business has lost almost 2 billion pounds ($3.4 billion) over the last four years.
Barclays shut or sold 161 branches in Spain last year, reducing the network by more than a third to 270. About one-third of staff were cut, leaving roughly 2,100 in the business.
Recommended Reading :
* Barclays seeking buyers for Spanish retail division