Spain's public debt reaches record high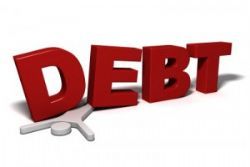 Spain's public debt grew 7.12% in Q1 of 2014 to 989.9 billion euros, or a record 96.8% of GDP.
The central government's debt was up 8.4% from Q1 of 2013 to 864 billion euros, accounting for by far the largest share of the total, according to Bank of Spain figures published Friday.
But the debt of Spain's autonomous communities rose the most in relative terms, climbing 16.5% and standing at 21.7% of GDP, also a new record.
By contrast, local government debt fell 4.5% to 40.9 billion euros (4% of GDP) and the debt of the Social Security system was virtually unchanged at 17.2 billion euros (1.7% of GDP).
The government is forecasting that public debt will climb to 99.5% of GDP for the year as a whole.
Spain's public debt has risen steadily amid the economic crisis brought on by the collapse of a decade-long property and construction boom in 2007.
Borrowing costs have fallen since 2012, however, making it easier for Spain to repay its debt.
Separately, the Economy and Competitiveness Ministry said Spain's trade deficit in the year's first 4 months rose 52% to 8.6 billion euros.
Imports rose 4.9% to 86.7 billion euros amid a recovery in business investment and household consumption.
Exports, meanwhile, climbed 1.4% to a record 78 billion euros.
Spain's economy expanded by 0.4% in Q1 of this year compared to the last 3 months of 2013.
The Iberian nation, which was also battered by the 2008-2009 global crisis, emerged from a double-dip recession last year but economic growth has been slow and insufficient to dent a high jobless rate of around 26%.
Recommended Reading :
* Spain commits 37.7 Mln to giant telescope